Co-designing Common Spaces

--- is a workshop at the De La Warr Pavilion in Bexhill on Sea.

In collaboration with tutor David Roberts and fellow Situated Practice students Luofei Dong, Ignacio Saavedra, Sophie Hardcastle and Ignacio Rivas, we created and facilitated a workshop with members of The Refugee Buddy Project and founder Rossana Leal.

Prompted by the acquisition of their first space in St Leonards-on-Sea, we devised a participatory workshop to begin conversations about its co-creation. Through conversation, drawing and performance we worked with community members to explore the different possibilities of their new space.

Together we explored the questions of what we want from the space, what we can share in the space and what this might look like. Working with a mixture of children and adults across languages of English and Arabic, we used overhead projectors to play with images and texts, rearranging their compositions to suggest different possibilities for the space. Members of the community were invited to draw or write their ideas on fabrics which we cut up, combined and arranged together. Over the course of an afternoon we slowly created the beginnings of a large scale fabric tapestry. We imagined books, cooking and skill sharing; Harry Potter reading, embroidery and crafts; birthday parties, cycling and languages. The tapestry became the platform through which these ideas were explored and communicated.

We then played with different combinations of ideas to enact different ways for the space to be. Using a drawn out 1:1 scale floor plan of the space we played with acting out the different suggested activities for the space, using performance as a way to understand how their needs and desires would interact with each other and what might be required to facilitate the multiple visions for the space.

This workshop created a moment to imagine the community space, involving and inviting contributions from their members to understand the collective desires and dreams for their new space.

This workshop was part of the Thinking Through... series at the De La Warr Pavilion and received Knowledge Exchange funding from the Slade School of Art.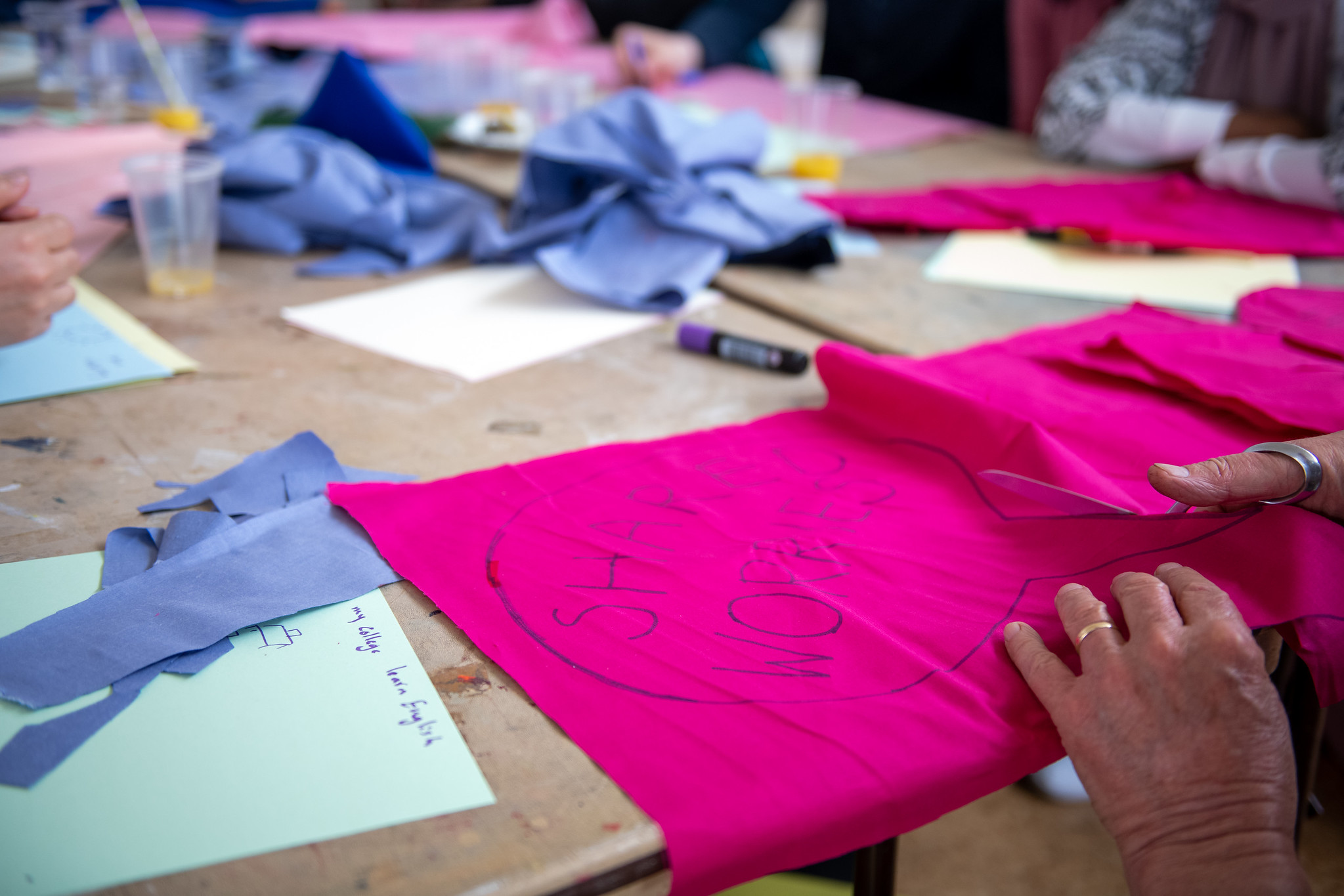 ( photographs by Matthew Harmer )

2019